Business Advisory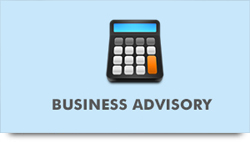 We can forecast and evaluate your company's financial condition, estimate financing requirements, and track cash sources and uses.
This is not just budgeting. We use sophisticated software that helps predict working capital requirement, balance sheet outcomes as well and profit and loss and cash flow positions of a business to put you in full control and on the right path to financial success.
Our highly experienced team accountants and advisors provide cost effective and tailored solutions to suit your needs.
Budgeting is a necessity when trying to effectively manage and lead a business to profitability.
From simple projections to complex financial modelling, our experienced staff can assist you in targeting and achieving your company's financial goals.
Our trusted advice provides a valuable solution if you are:
planning the expansion of your business,
seeking improvement in productivity and efficiency,
managing return on investment and optimal debt-to-equity ratios,
driving business improvement, profitability and cash flow,
strategically enhancing the valuation of your business
positioning your business for a smooth succession plan
We listen to your needs and we are always here to help.
We have advised many private clients over the years regarding all manner of business issues including:
Business start ups
Restructuring
Business valuations
Buying/selling a business
Computer systems
Estate, trust and gift planning
Business succession
Asset protection
Bankruptcy and corporate insolvency
Litigation support
And much more.
Using business acumen gained from our years of experience we bring a lot of practical, commercial judgement and discretion to the table.
Talk to us first to see how we can assist. That's good advice.